Share
Flower Travellin' Band
(フラワー・トラベリン・バンド, Furawā Toraberin Bando)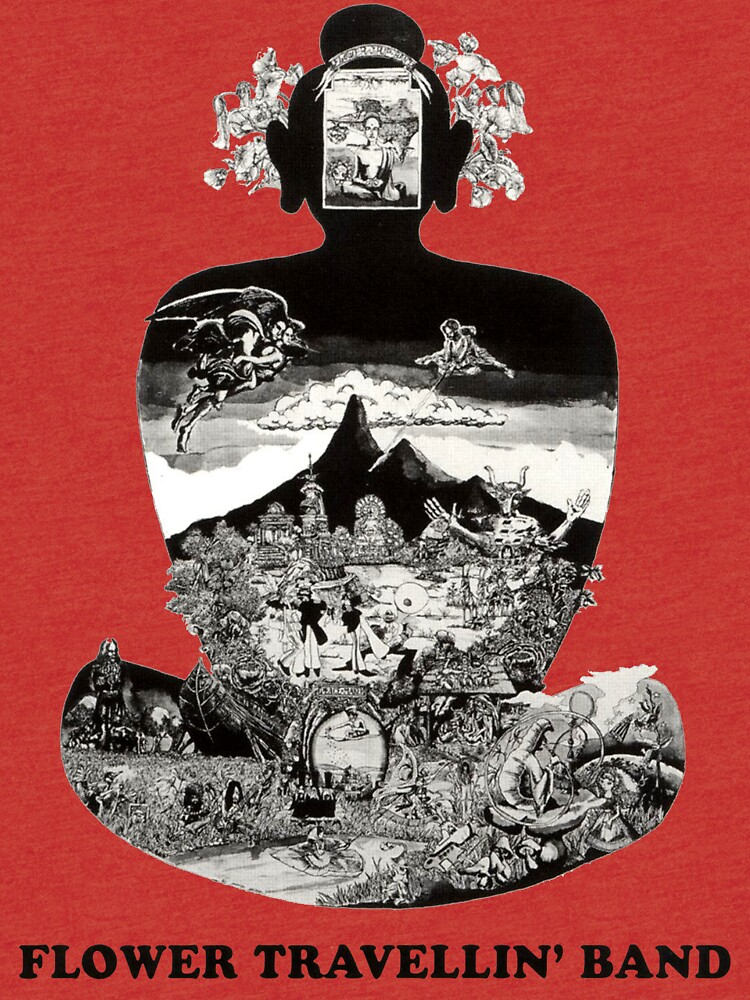 Flower Travellin' Band is a Japanese rock band that was formed in 1967.
They were connected to Japan's counterculture movement and noted for their mixture of early heavy metal with psychedelic and progressive rock.
They received wide acclaim from critics but failed to achieve commercial success and separated in 1973 to pursue individual careers.
The band reunited in late 2007, but permanently disbanded after the 2011 death of their charismatic vocalist Akira "Joe" Yamanaka (August 7, 2011).
Akira "Joe" Yamanaka (山中 明, Yamanaka Akira) was born in Yokohama, Japan, on September 2nd 1946.
He is known for both his work with Flower Travellin' Band, and as a solo musician singing at a vocal range of three octaves.
As an actor he appeared in many television shows and movies, such as Takashi Miike's Deadly Outlaw : Rekka and the 1989 version of Zatoichi.
Yamanaka grew up in a family of seven children. As the only one of mixed descent – his father was a US Army soldier from the Caribbean, who he never met – he grew up in poor circumstances in post war ruined Yokohama – his mother was a prostitute for the Recreation and Amusement Association – and was raised in an orphanage after his mother and stepfather died.
Joe left the orphanage at the age of 16 and became a boxer (inspired by his childhood idol Hiroyuki Ebihara) and was able to earn some money.
Yamanaka has mentioned that he adopted the English nickname Joe because of the English pronunciation of his favorite painter Keito Joh (Joh meaning castle in Japanese).
Indeed, as a teenage boxer he used the ring name Akira Jo (城アキラ).
He then met his lifelong friend Rikiya Yasuoka, who was a kickboxer of Japanese-Sicilian heritage.
Joe and Rikiya decided to become actors and starred in the 1964 Japanese film Jidôsha dorobô.
In his acting career Akira "Joe" Yamanaka was known as one of the three "real tough guys" in Japanese cinema, along with Tsunehiko Watase and Jerry Fujio.
The trio were known for being good-natured, but with a rebellious past and noted fighting prowess.
Yamanaka's career changed once again – though he would continue to act until his death – when he met another lifelong friend, Johnny Yoshinaga who persuaded him to become a musician.
In 1966, he became a member of the group sounds band 4.9.1.
Four years later, while in the blues band Mystic Morning with Hideki Ishima, the two of them were scouted by Yuya Uchida for Flower Travellin' Band.
They went on to become successful, particularly in Canada where they lived for a while and are now considered a pioneering and influential Japanese band.
Flower Travellin' Band was initially started as a side-project by Yuya Uchida (内田 裕也, Uchida Yūya, November 17, 1939 – March 17, 2019) after visiting his friend John Lennon in England in the mid 1960s, where he was introduced to various upcoming artists such as Cream and Jimi Hendrix.

Yuya wanted to introduce a similar sound to the Japanese, and formed Yuya Uchida & The Flowers who released the album Challenge! in 1969, which is composed almost entirely of covers from Western psychedelic rock acts such as Jimi Hendrix, Cream, Jefferson Airplane and Big Brother and the Holding Company.
After replacing all but one member – drummer George Wada – and reverting to a producer/manager role himself, he recruited guitarist Hideki Ishima and vocalist Akira "Joe" Yamanaka from the blues group Mystic Morning and bassist Jun Kobayashi, and formed the Flower Travellin' Band as a band that would appeal to international audiences.

Flower Travellin' Band released another cover mini-album, 1970's Anywhere (to emulate the Flowers' release by means of cover songs and a nude photo on the album's front).
At Expo '70, members of Canadian rock band Lighthouse saw Flower Travellin' Band perform, liked what they saw and suggested they go to Canada.
The group quickly recorded their first album of original material, Satori released in 1971, to have something to bring with them.
In December 1970 they relocated to Toronto where they performed with Dr. John and Emerson, Lake & Palmer.
In 1971 they performed four large concerts with Lighthouse at Ontario Place.
While in Toronto they recorded their second original album Made in Japan, they were approached by GRT Records.
They returned to Japan in March 1972 for a show at the Tokyo Metropolitan Gymnasium, and one year later were asked to perform with The Rolling Stones throughout their Japanese tour; however, all concerts were canceled when Mick Jagger's visa was rejected due to a drug conviction.
They released a half-studio, half-live album titled Make Up and in April performed at Maruyama Park in Kyoto.
It was their last concert before a long hiatus, as at this time Yuya became involved in numerous projects and each member went on to an individual career.
Joe Yamanaka recorded numerous solo albums and collaborated with the iconic reggae band The Wailers in the 1980s.
In March 2010, it was announced that Akira "Joe" Yamanaka was diagnosed with lung cancer, which he learned in February.
On September 6th his house was burned down after a lit cigarette was left unattended.
In March of the following year Yamanaka participated in a fundraising for relief from the 2011 Tōhoku earthquake and tsunami and performed his last concert on May 5th.
He suffered cardiac arrest in late July.
Joe died from cancer on August 7th 2011 at 6:56 am, less than a month before his 65th birthday.
Yuya Uchida died from pneumonia in a Tokyo hospital on March 17th  2019, at age 79.
He received a Lifetime Achievement Award at the 61st Japan Record Awards on December 30th 2019.
This mixtape is a tribute to each of them.
DAW : Harrison Mixbus
D/A Converter : Schiit Bifrost 2
Analog Signal Flow : McIntosh MA-6200
Cassette Deck : Nakamichi 682zx
C-100 Cassette Tape used : Sony UX 100 (1990-92) Type II
Suggested Cassette Tape : Any 80's/early 90's Maxell, Sony or TDK C-100 Type I or II (with enough extra time for both sides)