Share
Ennio Morricone, (10 November 1928 – 6 July 2020) was an Italian composer, orchestrator, conductor, and trumpet player who wrote music in a wide range of styles.
Also known as Maestro, Dan Savio or Leo Nichols, Ennio Morricone composed over 400 scores for cinema and television, as well as over 100 classical works. 
His score to The Good, the Bad and the Ugly (1966) is considered one of the most influential soundtracks in history and was inducted into the Grammy Hall of Fame. 
From 1960 to 1975, Morricone gained international fame for composing music for Westerns and—with an estimated 10 million copies sold— Once Upon a Time in the West is one of the best-selling scores worldwide.
His filmography includes over 70 award-winning films, all Sergio Leone's films since A Fistful of Dollars, all Giuseppe Tornatore's films since Cinema Paradiso, The Battle of Algiers, Dario Argento's Animal Trilogy, 1900, Exorcist II, Days of Heaven, several major films in French cinema, in particular the comedy trilogy La Cage aux Folles I, II, III and Le Professionnel, as well as The Thing, Once Upon a Time in America, The Mission, The Untouchables, Mission to Mars, Bugsy, Disclosure, In the Line of Fire, Bulworth, Ripley's Game and The Hateful Eight.
Morricone is widely regarded as one of the greatest and most influential film composers of all time.
After playing the trumpet in jazz bands in the 1940s, he became a studio arranger for RCA Victor and in 1955 started ghost writing for film and theatre. 
In 1956, Morricone started to support his family by playing in a jazz band and arranging pop songs for the Italian broadcasting service RAI. He was hired by RAI in 1958, but quit his job on his first day at work when he was told that broadcasting of music composed by employees was forbidden by a company rule. 
Subsequently, Morricone became a top studio arranger at RCA Victor, working with Renato Rascel, Rita Pavone, Domenico Modugno and Mario Lanza. 
Throughout his career, Morricone composed songs for several national and international jazz and pop artists, including Gianni Morandi (Go Kart Twist, 1962), Alberto Lionello (La donna che vale, 1959), Edoardo Vianello (Ornella, 1960 ; Cicciona cha-cha, 1960 ; Faccio finta di dormire, 1961 ; T'ho conosciuta, 1963; ), Nora Orlandi (Arianna, 1960), Jimmy Fontana (Twist no. 9; Nicole, 1962), Rita Pavone (Come te non-ce nessuno and Pel di carota from 1962, arranged by Luis Bacalov), Catherine Spaak (Penso a te ; Questi vent'anni miei, 1964), Luigi Tenco (Quello che conta ; Tra tanta gente; 1962), Gino Paoli (Nel corso from 1963, written by Morricone with Paoli), Renato Rascel (Scirocco, 1964), Paul Anka (Ogni Volta ; co-wrote with Roby Ferrante and performed for the first time during the Festival di San Remo in 1964 ; this song sold over three million copies worldwide, including one million copies in Italy alone), Amii Stewart, Rosy Armen (L'Amore Gira), Milva (Ridevi, Metti Una Sera A Cena), Françoise Hardy (Je changerais d'avis, 1966), Mireille Mathieu (Mon ami de toujours ; Pas vu, pas pris, 1971 ; J'oublie la pluie et le soleil, 1974) and Demis Roussos (I Like The World, 1970).
In 1965 he joined the Nuova Consonanza, an avant-garde and improvisation group of musicians. From 1966 to 1980, he was a main member of Il Gruppo, one of the first experimental composers collectives, and in 1969 he co-founded Forum Music Village, a prestigious recording studio. 
From the 1970s, Morricone excelled in Hollywood, composing for prolific American directors such as Don Siegel, Mike Nichols, Brian De Palma, Barry Levinson, Oliver Stone, Warren Beatty, John Carpenter and Quentin Tarantino. 
In 1977, he composed the official theme for the 1978 FIFA World Cup. 
He was nominated for a further six Oscars, and in 2016, received his only competitive Academy Award for his score to Quentin Tarantino's film The Hateful Eight, at the time becoming the oldest person ever to win a competitive Oscar.
On 6 July 2020, Morricone died at the Università Campus Bio-Medico in Rome, aged 91, as a result of injuries sustained during a fall.
This mixtape is a tribute to acclaimed composer Ennio Morricone and his influence on many muscians and music enthusiast over the years.
Requiescat in pace.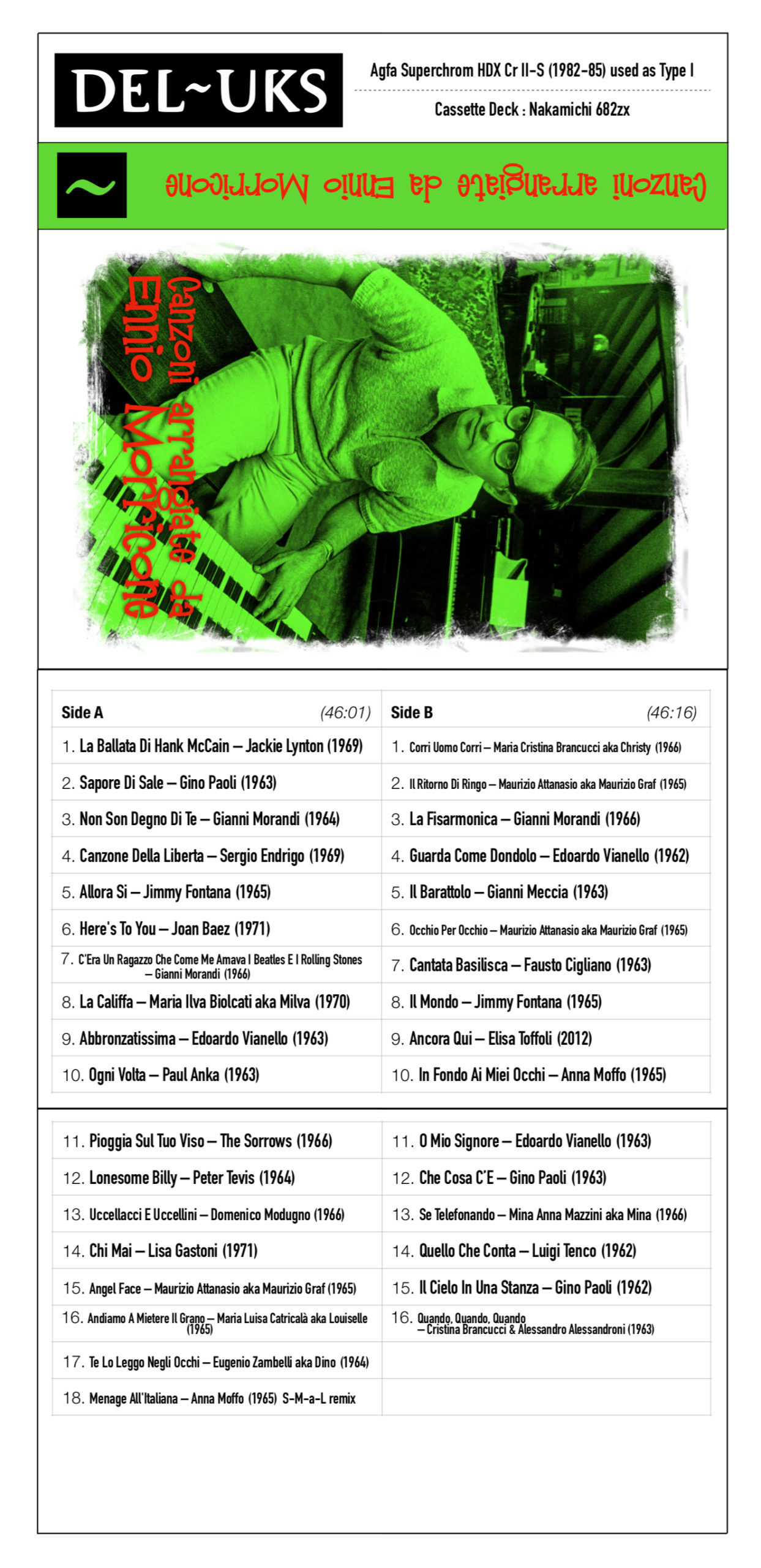 DAW : Harrison Mixbus
D/A Converter : SSL 2+
Cassette Deck : Nakamichi 682zx
C-90 Cassette Tape used : Agfa Superchrom HDX Cr II-S (1982-85) used as Type I
Suggested Cassette Tape : Any 80's/early 90's Maxell, Sony or TDK C-90 Type I or II cassette tape (with extra time for both sides)
You might also want to check this out : Ennio Morricone | (Spaghetti) Western all'italiana & Altri Film