Share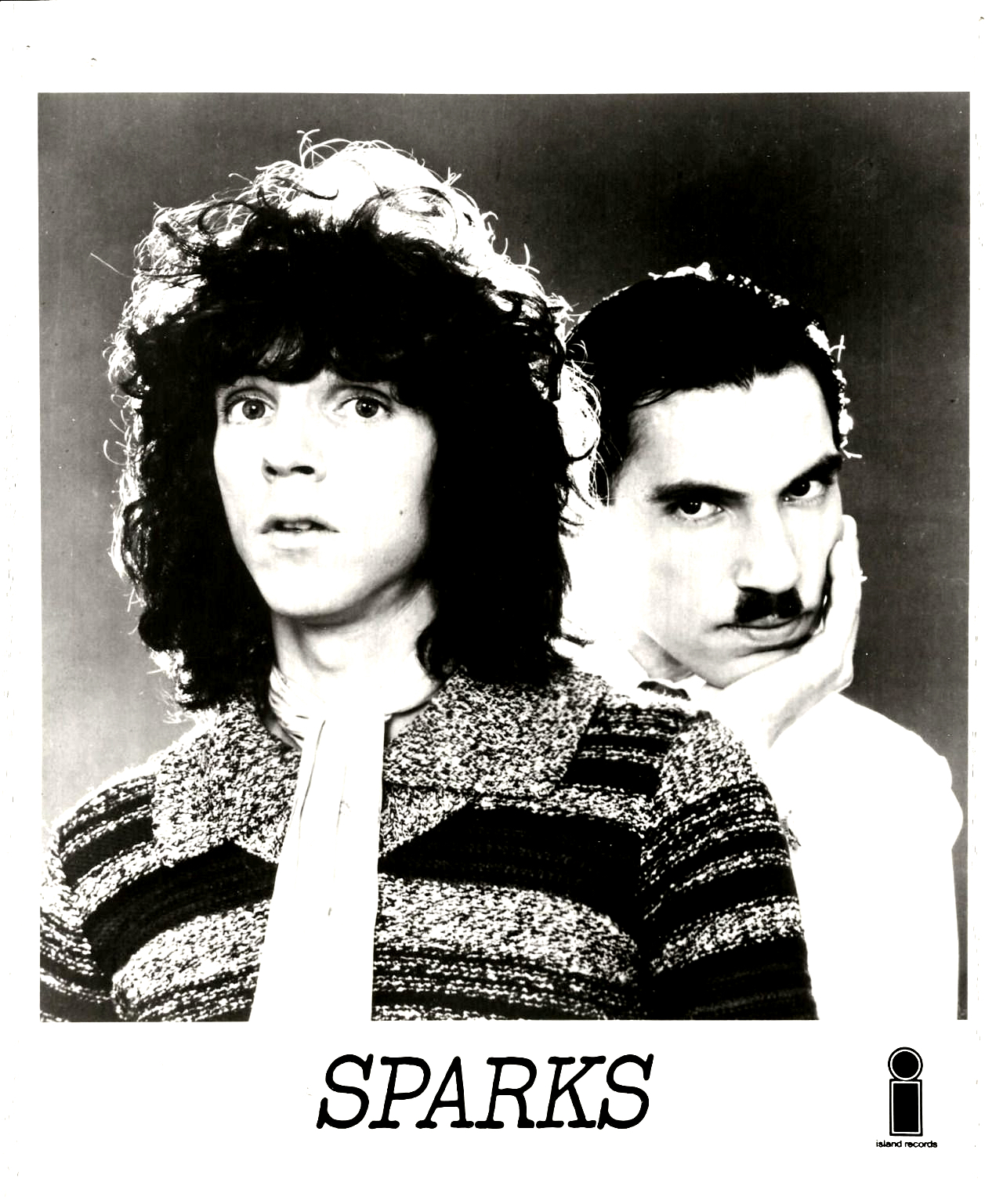 Sparks is an American pop and rock duo formed by brothers Ron (keyboards) and Russell Mael (vocals) in Los Angeles.
Known for their quirky approach to songwriting, Sparks' music is often accompanied by sophisticated and acerbic lyrics, often about women or Shakespearean literature references, and an idiosyncratic, theatrical stage presence, typified in the contrast between Russell's animated, hyperactive frontman antics and Ron's deadpan scowling.
Their very first recordings were made under the name of Urban Renewal Project, on January 14, 1967, at the Fidelity Recording Studios in Hollywood.
Four tracks were recorded with married couple Fred and Ronna Frank, who were close friends of the Maels at the time.
The songs were pressed on two acetates and have never been released, apart from the track "Computer Girl", which was featured on a CD included with the Japanese semi-biography from 2006 and more widely released on the Past Tense greatest hits album in 2019.
The other three tracks were entitled "The Windmill", "A Quick Thought" and "As You Like It".
Forming Halfnelson in 1968, they soon came to the attention of producer Todd Rundgren, at whose urging Albert Grossman signed the band to his Bearsville record label.
Their debut album was released on Bearsville Records in September 1971 with the line-up consisting of college friend Earle Mankey on guitar, Mankey's brother James on bass, Harley Feinstein on drums and Rundgren producing.
Their first album sold poorly, but after renaming themselves Sparks in 1972, a play on the Marx Brothers, it was then re-released by Bearsville Records in 1972 as "Sparks".
The re-issued debut spawned the minor regional hit "Wonder Girl".
Sparks have influenced many later genres including synth-pop, new wave, post-punk, and alternative music, influencing a wide range of singers and bands including Joy Division, New Order, Depeche Mode, The Smiths, Siouxsie & The Banshees, Sonic Youth and Björk.
John Frusciante of Red Hot Chili Peppers said that he used to listen to "Kimono My House" and "Propaganda" for Adrian Fisher's guitar playing adding, "I'm sure that it is Ron Mael who told him what to play".
Thurston Moore of Sonic Youth included the Sparks' song "Equator" in his list of all-time favorite songs.
Joy Division's drummer Stephen Morris stated : "When we were doing 'Love Will Tear Us Apart', there were two records we were into: Frank Sinatra's Greatest Hits and Number One Song in Heaven by Sparks."
Devo's singer Mark Mothersbaugh described himself as a big "Ron Mael fan" and of his look : "it was so not rock n' roll, in an unexpected way, that you just couldn't help but think that there was something there".
When they started playing music, singer Dave Gahan and composer Martin Gore of Depeche Mode cited Sparks as one of their favorite bands.
Steve Jones of the Sex Pistols said that he constantly listened to Kimono My House back in 1974 at Paul Cook's room.
Björk talked about Kimono my House as one of the records that changed her life.
In 2004, Franz Ferdinand singer Alex Kapranos published an article in the NME titled, "Why I love the Sparks".
In 2021, film English director Edgar Wright (Shaun of the Dead, Hot Fuzz, Scott Pilgrim vs. The World, Ant-Man, Baby Driver…) made a documentary called The Sparks Brothers.
It had its world premiere at the 2021 Sundance Film Festival on January 30, 2021.
French film director Leos Carax released the musical film Annette starring Adam Driver, Marion Cotillard and Simon Helberg, premiering as the opening film at the 2021 Cannes Film Festival.
Ron Mael and Russell Mael of Sparks co-wrote the screenplay, the music and most of the songs featured in the film with Leos Carax.
This mixtape is dedicated to their incredible 50-year career.
DAW : Harrison Mixbus
D/A Converter : Schiit Bifrost 2
Analog Signal Flow : McIntosh MA-6200
Cassette Deck : Nakamichi 682zx
C-60 Cassette Tape used : RTM Fox C60 (2016) Type I
Suggested Cassette Tape : Any 80's/early 90's Maxell, Sony or TDK C-60 Type I or II