Share
A Chronological Mixtape
The Big Lebowski is a 1998 comedy crime film written, produced, and directed by Joel and Ethan Coen.
It stars Jeff Bridges as Jeffrey "The Dude" Lebowski, a Los Angeles slacker and avid bowler.
He is assaulted as a result of mistaken identity, then learns that a millionaire also named Jeffrey Lebowski (David Huddleston) was the intended victim.
The millionaire Lebowski's trophy wife is kidnapped, and he commissions The Dude to deliver the ransom to secure her release ; the plan goes awry when the Dude's friend Walter Sobchak (John Goodman) schemes to keep the ransom money.
Sam Elliott, Julianne Moore, Steve Buscemi, John Turturro, Philip Seymour Hoffman, Tara Reid, David Thewlis, Peter Stormare, and Ben Gazzara also appear, in supporting roles.
The film is loosely inspired by the work of Raymond Chandler.
Joel Coen stated :
"We wanted to do a Chandler kind of story – how it moves episodically, and deals with the characters trying to unravel a mystery, as well as having a hopelessly complex plot that's ultimately unimportant."

The Big Lebowski received mixed reviews at the time of its release.
Over time, reviews have become largely positive, and the film has become a cult favorite, noted for its eccentric characters, comedic dream sequences, idiosyncratic dialogue, and eclectic soundtrack.
In 2014, the film was selected for preservation in the United States National Film Registry by the Library of Congress, being deemed "culturally, historically, or aesthetically significant".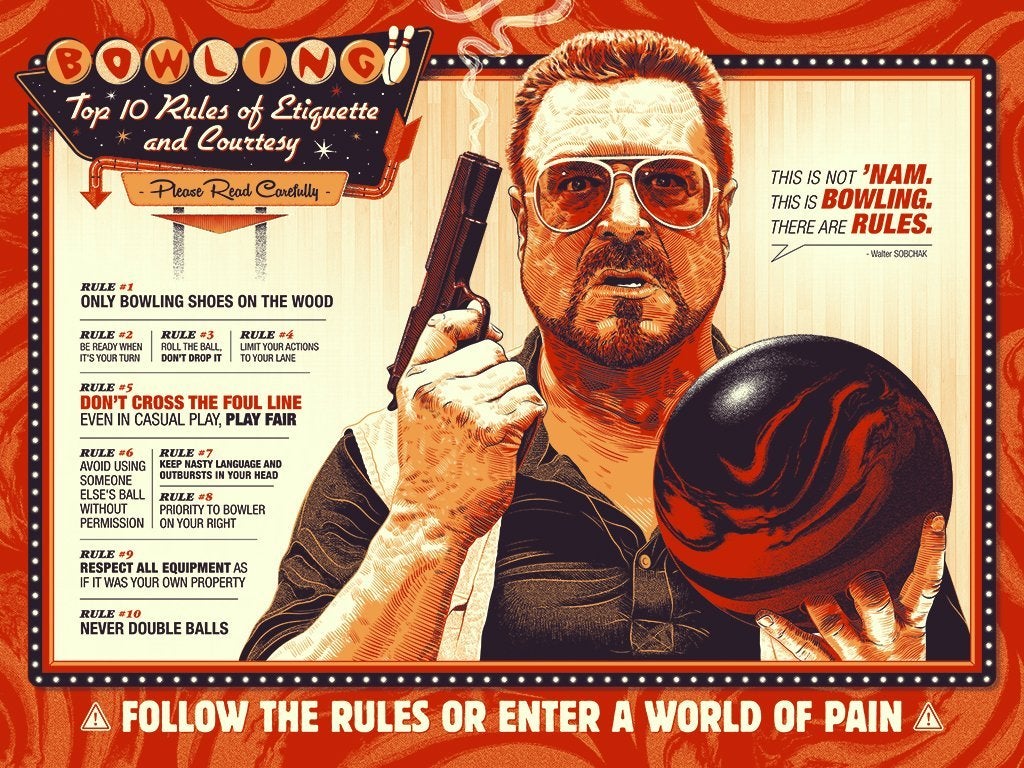 An annual festival, Lebowski Fest, began in Louisville, Kentucky, United States in 2002 with 150 fans showing up, and has since expanded to several other cities.
The festival's main event each year is a night of unlimited bowling with various contests including costume, trivia, hardest- and farthest-traveled contests.
Held over a weekend, events typically include a pre-fest party with bands the night before the bowling event as well as a day-long outdoor party with bands, vendor booths and games.
The British equivalent, inspired by Lebowski Fest, is known as The Dude Abides and is held in London.
Dudeism a religion devoted largely to spreading the philosophy and lifestyle of the film's main character, was founded in 2005.
Also known as The Church of the Latter-Day Dude, the organization has ordained over 220,000 "Dudeist Priests" all over the world via its website.
Two species of African spider are named after the film and main character : Anelosimus biglebowski and Anelosimus dude, both described in 2006.
Additionally, an extinct Permian conifer genus is named after the film in honor of its creators.
The first species described within this genus in 2007 is based on 270-million-year-old plant fossils from Texas, and is called Lebowskia grandifolia.
The original score was composed by Carter Burwell, a longtime collaborator of the Coen brothers.
Joel and Ethan also asked T-Bone Burnett (who would later work with the Coens on O Brother, Where Art Thou ? and Inside Llewyn Davis) to pick songs for the soundtrack of the film.
This mixtape is dedicated to Jerome Doudet aka El Duderino aka The Dude Of Stratosphear.

DAW : Harrison Mixbus
D/A Converter : Schiit Bifrost 2
Analog Signal Flow : McIntosh MA-6200
Cassette Deck : Nakamichi 682zx
C-100 Cassette Tape used : Maxell XLII-S 100 (1998-2000) Type II
Suggested Cassette Tape : Any 80's/early 90's Maxell, Sony or TDK C-100 Type I or II