Share
Basil Poledouris – Conan The Barbarian
"And if you do not listen, then to HELL with you!"
"Crush your enemies.
See them driven before you.
And to hear the lamentations of their women."
Conan the Barbarian is a 1982 American epic sword and sorcery film directed by John Milius and written by Milius and Oliver Stone.
Based on Robert E. Howard's Conan, the film stars Arnold Schwarzenegger and James Earl Jones and tells the story of a barbarian warrior named Conan (Schwarzenegger) who seeks vengeance for the death of his parents at the hands of Thulsa Doom (Jones), the leader of a snake cult.
Conan the Barbarian premiered on March 16th, 1982 in Spain and May 14th, 1982 in North America.
Upon its release, the film received mixed reception from critics and audiences, mostly positive for its action sequences, production design, direction, visual style and effects, but negative for its violent content and storyline, as well as some poor performances.
Despite this, the film became a commercial success for its backers, grossing between $68.9 and $79.1 million at the box office worldwide on a budget of only $20 million.
While most comic book and pulp adaptations were box office failures in the 1980s, Conan the Barbarian was one of the few to make a profit.
However, the box office did not reach the level that would have qualified the film as a blockbuster.
For the main character, Charles Bronson, Sylvester Stallone, comedian and ex-rugby player Jethro and William Smith — all of whom had played tough figures – where also considered, but in 1976, the executive producer Edward R. Pressman and associate producer Edward Summer watched a rough cut of the bodybuilding film, Pumping Iron, and agreed that Arnold Schwarzenegger was perfect for the role of Conan due to his huge, muscular frame.
Aside from Conan, two other substantial roles were also played by novice actors.
Subotai was Gerry Lopez, a champion surfer, whose only major acting experience was playing himself in Milius's Big Wednesday.
Sandahl Bergman, a dancer who had had bit parts in several theater productions and films, played Valeria.
She was recommended to Milius by Bob Fosse, who had directed her in All That Jazz (1979).
James Earl Jones and Max von Sydow were, according to Milius, hired in the hope that their experience and aura might inspire Schwarzenegger, Bergman and Lopez.
The Japanese-American actor Mako Iwamatsu, known professionally as "Mako", was also brought onto the project by Milius for his reputation as a disciplined and experienced actor.
In Conan, Mako played the Wizard of the Mounds and voiced the film's opening speech.

William Smith, although passed over for the lead role, was hired to play the barbarian's father.
Jorge Sanz acted as the nine-year-old version of Conan.

Doom's two lieutenants, Thorgrim and Rexor, respectively, were played by Sven-Ole Thorsen, a Danish bodybuilder and karate master, and Ben Davidson, a former American-football player with the Oakland Raiders.
Cassandra Gava played the witch.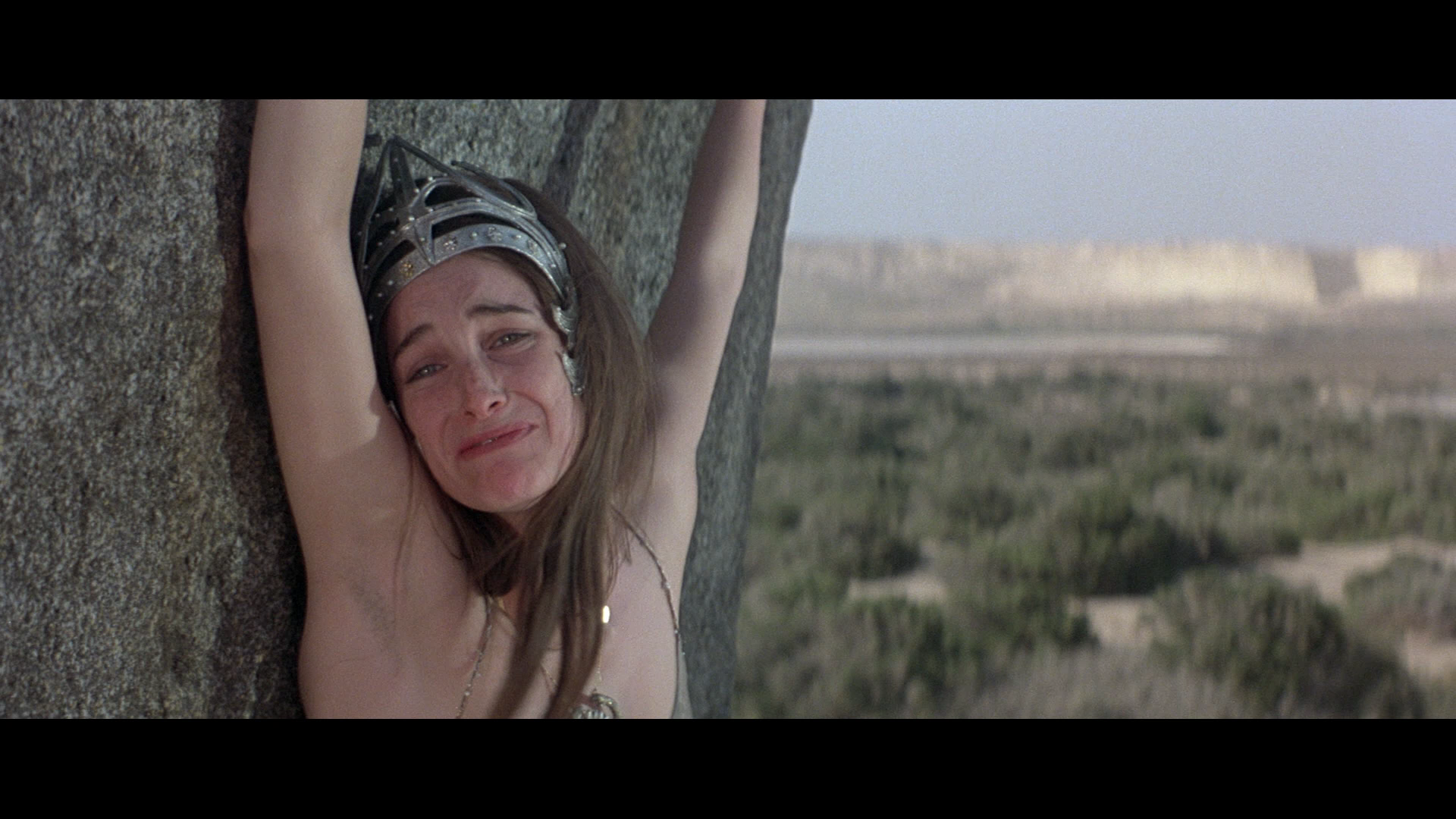 Professional actors from the European film industry were also hired : Valérie Quennessen was chosen to play Osric's daughter…

…and Nadiuska played Conan's mother.
The film industry's usual practice was to contract a composer to start work after the main scenes had been filmed, but Milius hired his friend Basil Poledouris before principal photography had started.
The composer was given the opportunity to compose the film's music based on the initial storyboards and to modify it throughout filming before recording the score near the end of production.
Poledouris made extensive use of Musync, a music and tempo editing hardware and software system invented by Robert Randles (subsequently nominated for an Oscar for Scientific Achievement), to modify the tempo of his compositions and synchronize them with the action in the film.
Conan is the first film to list Musync in its credits.

From late November 1981, Poledouris spent three weeks recording his score in Rome.
He engaged a 90-instrument orchestra and a 24-member choir from the Accademia Nazionale di Santa Cecilia and the RAI National Symphony Orchestra.
Poledouris conducted them personally.
The film's music mostly conveys a sense of power, energy, and brutality, yet tender moments occur.
Poledouris's score was judged by Films in Review's Page Cook as the second best sound track of the films released in 1982 (behind John Williams score for E.T.) and named it as "the only reason to watch the film".
Author Laurence E. MacDonald noted Poledouris's work on Conan as "one of the most spectacular film music achievements of the decade".
After hearing Conan's music, Paul Verhoeven engaged Poledouris to score his films, Flesh and Blood (1985), RoboCop (1987) and Starship Troopers (1997).
The music in Verhoeven's Total Recall (1990) also bore the influence of Conan's score ; its composer, Jerry Goldsmith, used Poledouris's work as the model for his compositions.
The Conan The Barbarian soundtrack is without a doubt one of Poledouris' best works to date.
This mixtape is dedicated to Luis.
DAW : Harrison Mixbus
D/A Converter : Schiit Bifrost 2
Analog Signal Flow : McIntosh MA-6200
Cassette Deck : Nakamichi 682zx
C-100 Cassette Tape used : Sony Metal-XR 100 (1990-92) Type IV
Suggested Cassette Tape : Any 80's/early 90's Maxell, Sony or TDK C-100 Type II or IV (with enough extra time for both sides)